January 1, I embarked on an interesting journey; I decided to start the 75 Hard Challenge. I've gotten a lot of questions on this program and what it is exactly, what the rules are, etc. So...
What is 75 Hard
? It's a mental toughness skills development challenge started by Andy Frisella. His premise is that mental toughness is a skill and therefore can be learned, practiced, and honed. Andy designed this challenge to cultivate: confidence, self-belief, self-esteem, self-worth, endurance, fortitude, grit, perseverance, self-discipline, endurance, resilience... and all of the skills inside the scope of mental toughness.
Check out the podcast that started it all for all the info from Andy himself:
https://andyfrisella.com/blogs/mfceo-project-podcast/75hard-a-75-day-tactical-guide-to-winning-the-war-with-yourself-with-andy-frisella-mfceo291
Note that if f-bombs are going to offend you this is not for you.
So, what are the 75 Hard Rules?
For 75 days straight:
Follow a diet of your choice strictly. No cheats. No alcohol.

Workout twice a day for 45 minutes each session. Any workout of your choice, but one MUST be outside.

Drink a gallon of water per day.

Read 10 pages of a nonfiction entrepreneurship/self-improvement/personal development book each day. Audiobooks don't count.

Take a progress pic every single day.
No slips, no substitutions, no compromises, no altering the plan. If you slip, if you miss one tiny thing, you start back at day 1.
Andy is emphatic about not cheating yourself by allowing cheats, slips, excuses, or "Oh, that's not a big deal, I'll just keep going." The challenge is intended to be completed as it stands, straight through, no breaks or editing at all.
We'll get out of this challenge what we put into it. Holding ourselves accountable is a big point of it all. I definitely recommend listening to the podcast I linked above to get all of the fine print on the challenge.
Why do 75 Hard?
The magic in 75 Hard is the mental gain that you're going to get out of this challenge, it's not about the physical transformation (though that will occur as well), it's about who you're becoming through doing hard things. It's about the qualities and skills you will develop by sticking it out and seeing it through. It's about the HARD in the 75 Hard. Andy says that 75 Hard is simply how to become who you want to become.
My 75 Hard Challenge Experience
I began my 75 Hard challenge on January 1. You can follow along on my Instagram.
The parameters I've set for my 75 Hard program:
Keto diet. 1650 calories (1651 and I go back to day 1), 20 grams TOTAL carbs (21 and I go back to day 1). I'm going back to food prep to streamline this. It's really tough to fit all of this in and having my food prepped makes it so much less stressful. And of course zero alcohol. I'm posting my calories and macros every day in my IG story.

One morning workout outside, usually cardio, and then an afternoon workout balancing things out with yoga, weights, etc. 45 minutes each of course. I'll be sharing my watch reading after each workout on my IG.

I purchased a gallon water bottle (this one) to make tracking this easier. I fill it up in the morning and it has to be empty by bedtime.
I'll share some of my favorite snippets from my reading on IG. These are the books I'm starting with: Do the Work, Mindset, and The Miracle Equation. I'll update the list as I go along.

I have set an alarm on my phone to remind me to take this every day! I dug out my snuggest workout clothes and I'll share a few on Instagram and here at the end.
So far as I can tell so far (on day 2 of the challenge as I write this) the best advice I can give for tips to get through 75 Hard is to plan ahead, figure out everything you can do to make this work in your life. ie:
Meal prep

Get a gallon water bottle

Set phone alarms to remind you

Enlist the support of those near you. My husband says he's doing the 75 Easy because he's doing the morning workout with me and doing everything he can to ensure I get through this.

Have a checklist that you go over every night to ensure you've done everything!
You would not believe the things that have been thrown at me the first 2 days to try and throw me off track. It's amazing to me how when we set out to do something positive, in our lives or the larger world, everything seems to come at us to try and knock us off our course. I say...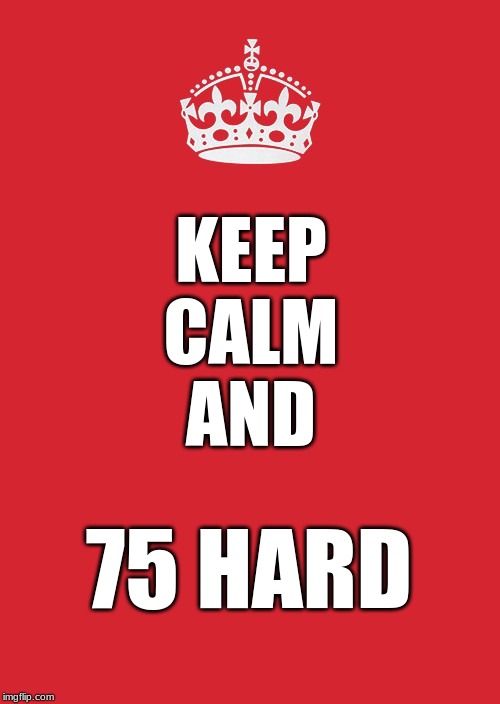 UPDATE 1/18 AM:
As the name should give away clearly: this challenge is HARD. Like, I'm one of those extreme self-discipline types and I am struggling hardcore. I am now 18 days in and wishing I could let myself quit. No such luck, I'm one of those finish what I started freaks. Le sigh ;)
I'm struggling to keep up with food prep and just winging it is really hard to hit my calories and macros perfectly. I'm completely exhausted overall. I suppose from the added workout? I thought my body would have adjusted by now, but nope. Fitting all of this in has become increasingly hard as homeschool with my kids started back from Christmas break. Focused, active reading of 10 pages with 3 kids, 2 crazy cats, 1 puppy, and 1 husband working on the 1 house that is completely under construction is quite the trick. Plus, I'm just flat tired of being cold. It's been cold (like 6 degrees F to 20ish) with icy winds (-1 wind chill) on most of my early morning walks and I return home completely frozen.
All whining aside, this challenge is really hard. I would not recommend joining it lightly. I've seen so many quit or just kind of appear to fake it. Don't start this unless you are really and truly all-in committed to yourself to finish.
Meanwhile, I'm off for another icy walk...send keto cocoa.
UPDATE 1/18 PM:
YES, today's walk was again completely miserable with icy crazy wind. However, this is what I know for sure: when resistance gets strong that is the time to go like hell. To push even harder.
SO, I've been taking it easier with workouts. Morning workouts generally walks and afternoon workouts have been lots of easy yoga and lighter workouts. No more. Today I did a hardcore leg day for my second workout. I'm upping my game. Oh, and running needs to make it's reentry this week me thinks.
And now, it's 5 PM and I am getting this butt in the kitchen for some food prep.
Time to get it.
I. WILL. NOT. QUIT.
Follow me on Instagram (@kerriolkjer) or twitter (@kerriolkjer) and let's chat about this challenge!